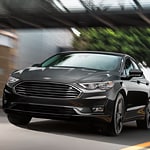 When Ford was designing the Fusion, which is their popular mid-size sedan, they wanted to ensure that it blended performance and practicality. The Fusion comes with several dynamic features that make it a more thrilling daily driver than its major competitors.
One of the most advanced performance features found on the Fusion is the electronic power-assisted steering system. The EPAS system can tighten up the steering for when you are making high-speed maneuvers, or it can loosen up for when you are cruising around Honolulu. Another advanced feature found on the Fusion is the optional intelligent all-wheel-drive system. This system uses sensors to determine how much torque it sends to the front and rear wheels, which can give you more grip or better acceleration.
If you want to get a full grasp of all the advanced features found on the Ford Fusion, you can visit our team at Honolulu Ford. They can give you a full breakdown and get you set up on a test drive around town.