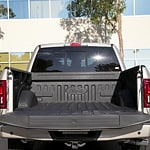 Whether you need a truck for work or play, the new F-150 is built to be capable of handling both. When you get behind the wheel of the F-150, you'll see how it performs.
When it comes to towing, the F-150 is capable of handling up to 13,200 pounds. You can equip the F-150 with new redesigned 3.5L EcoBoost twin-turbo V6 to get up to 375 horsepower and 470 lb-ft of torque to pull those larger trailers. Smart features for towing can also make towing easier. Standard features such as the smart trailer tow connector can warn you when there's issues with the lighting and battery as well.
For those that need their F-150 at the job site, the F-150 features best-in-class payload capacity. The body and truck bed of the F-150 is designed to be both lighter and durable. It makes use of a high-strength aluminum alloy that works with the engine to haul more.